A-P Machine Knife Inc. is the manufacturer of a variety of industrial knives including slide ways, shear blades, guillotine blades, shear knives, food processing knives as well as many others. In addition to this we also work with stainless steel circular slitters, slitter knives, scraper blades, circular knives, linear tracks, cane knives, mill blades, scrap blades and many others.
Shear Blades
» The most finest quality in tools are used to meet the needs of your particular cutting application. This allows us to provide the most maximum edge retention in order to reduce costly down time.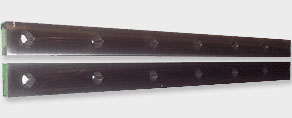 Scrap Blades
» All materials are carefully selected and heat treated appropriately to ensure maximum performance of these heavy used blades.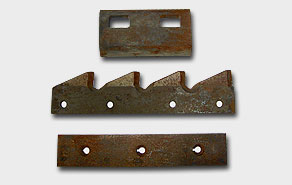 Paper Cutting, Slitter Knife and Others
Roll Splitters and Clipper Knives
» The highest quality inlay is used to meet the needs of your particular knife.
Up to 150" in length
Granulator Knives
» For knives such as these we are aware that many cutting applications can cause excessive wear and strain to the edge of the knife. In order to prevent this from happening we put at the disposal of our customers our expertise in raw material selection, heat treatment as well as modification and advice to geometry.